Wednesday Woman of Wonder : Shonda Rhimes
Its the holidays! And we all know what that means, extended days off, eating your heart-out, and binge watching all your favorite shows.
If you're anything like The Beem Box team, the list to catch up on your favorite shows is extremely long—and it includes shows like, Grey's anatomy, Scandal, How to get away with murder, Private practice—noticing a theme...
These are all shows created by or executive produced by Shonda Rhimes! And if this your first time hearing her name, WAKEUPPP GIRL. Shonda Rhimes has contributed more to the diversity of television casts than other producer since the 90's.
Shonda Lynn Rhimes is a television producer, film writer, and author. She is best known for er TV dramas shows like Grey's Anatomy, Scandal, and How to Get away with murder.
She has been named one of Time Magazines 100 people Who Helped Shape the World.
Her awards and nominations are no small feat, she has won a Golden Globe award and has been nominated for three Emmy Awards. Shonda also won awards from the Writer's Guild of America, Producer's Guild of America, and Director's Guild of America.
Rhimes's work has garnered so much recognition, from several GLAAD Media and NAACP Image Awards for her taking on important issues in terms of race and sexuality.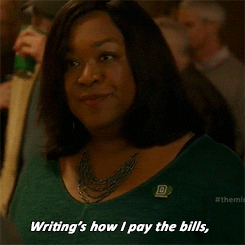 Similar to famous lead female characters, Shoda has never been interested in being married, she has been quoted to say "I do not want a husband in my house,"
"I have never wanted to get married. I never played bride. I was never interested."
Go ahead Queen🤩
Although she did always want to be a mother, she has 3 adoptive daughters Harper, Emerson, and Beckett.
In 2017, Shonda Rhimes signed a deal, leaving ABC to become a producer for Netflix shows.
Ted Sarandos, the chief content officer of Netflix, stated
"

Shonda Rhimes

is one of the greatest storytellers in the history of television,"
"Her work is gripping, inventive, pulse-pounding, heart-stopping, taboo-breaking television at its best. I've gotten the chance to know Shonda and she's a true Netflixer at heart — she loves TV and films, she cares passionately about her work, and she delivers for her audience. We're so excited to welcome her to Netflix."
Shonda Rhimes is a force to be reckoned with, she has brought people of color to the forefront in engaging and binge-worthy shows. And we at The Beem Box, and the masses all over the world, thank her for the gem that is Grey's Anatomy.
Send this article to a young aspiring poc director, writer or producer! And let them know they can do it too!